Achievements
H.O.P.E. stands for "Help Other People Endure." Created by a group of teenage girls in Cincinnati, Ohio, H.O.P.E. is helping rebuild the South African village of Langkloof.
Today
Total fundraising has exceeded $1.4 million
550 kids continue to be fed twice a day
2009
Feeding program increase to 550 kids a day
Computer room installed in Langkloof high school
2008
Produced a benefit concert, "Rock Against AIDS," featuring high school bands and Nick Lachey as well as the Cincinnati Choir--winners from the NBC show Clash of the Choirs
Feeding program increased to 450 kids a day
Community area paved for use as a basketball court, soccer field, and recreational area
2007
Our fundraising efforts have grown to a net of over $850,000.
We have begun to feed 350 children not one, but two meals a day.
We have installed a new community dining area, equipped with a functional kitchen, where meals are being prepared. We have also built a dining hall.
The community center is equipped with flushing toilets, running water, and electricity.
The new vegetable tunnel and fruit trees are in full bloom.
All 8 core members of H.O.P.E., along with their family members and teachers (a total of 24 people), traveled to Langkloof with over 1500 pounds of clothes.
2006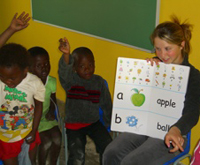 Our fundraising efforts brought in an additional $275,000.
Part of our fundraising effort went into putting on a spring fashion show, which was completely run by H.O.P.E. members and included models from other schools. This event showcased prom fashions, raffled off prom-related items, and raised $20,000.
We printed and sold new t-shirts, coffee mugs, and carabineers.
Used funds to install a hydroponic vegetable tunnel, where community members are currently learning to grow crops such as tomatoes, eggplants, and lettuce. They can in turn use these crops to sell to Little Switzerland Resort.
We also installed a bore-hole that supplies water to the school and village.
Another group of H.O.P.E. members travelled to Langkloof, taking hundreds of pounds worth of clothing that they raised through a clothing drive at school.
2005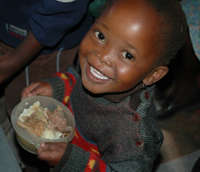 We raised $150,000 through car washes, bake sales, individual donations, and t-shirt sales.
The feeding program grew to 350 children each day
A group of 11 traveled to Langkloof to meet and establish a strong relationship with tribal elders, children, and important members of the community.
H.O.P.E. members helped to clothe and educate children whose ages ranged from 6 months to 18 years.
We used our money in order to repaint an existing pre-school, install a security fence around the school, purchase a high-quality playground for the pre-school grounds.
We also planted fruit trees and vegetable garden adjacent to the pre-school, which the children have been taking care of.
The H.O.P.E. group expanded to include teenagers from other local schools.
2004
We raised $2,000 by printing and selling t-shirts in our school cafeteria.
We Used this money to purchase shoes for all the children in Langkloof.
One of our founding members, Maya Amoils, traveled to meet the children and distribute clothing and toys.
We established a feeding program in conjunction with Christopher and Carole Anne Mumby (owners of the Little Switzerland Hotel in South Africa), who agreed to take the children leftover food from their resort. The program initially began by feeding 12 orphans a day. By the end of the year, 80 children received food on a daily basis.