Contact H.O.P.E.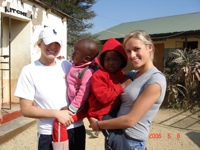 Tax-deductible Donations
Tax-deductible donations can be made to:
InterAct for Change
Project H.O.P.E.
3805 Edwards Rd, Suite 500
Cincinnati, OH 45209-1958
www.interactforchange.org

Tax ID #: 30-0065901
To make a donation, please see the "Take Action" section of the InterAct for Change site
Merchandise
If you're interested in purchasing a H.O.P.E. t-shirt, mug, or carabiner please email us your color or size preference and we'll be happy to fill your order.
E-mail
H.O.P.E. is a non-profit organization started in 2003 by a group of Cincinnati teens. Its core members are Maya Amoils, Jordan Baird, Carly Brightwell, Amanda Cohen, Ellyn Guttman, Megan Levine, Christie Lindner, and Rachel Nussbaum. H.O.P.E.'s goal is to raise money in order to provide Langkloof with living essentials and education. Ultimately, we want to provide Langkloof with the resources necessary to become a self-sustaining community.